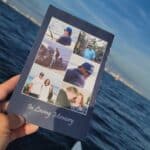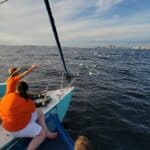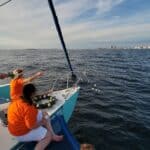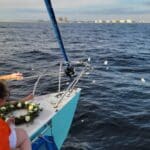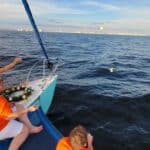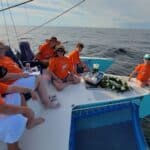 Captain Pam offers Ash Spreading and Memorial Cruises on her Trimaran. We will cruise into the Gulf of Mexico during this type of cruise, where we will stop and allow you time to memorialize your loved one and then spread the ashes. Losing someone we love is the hardest part of life. Our thoughts and prayers are with you during this time.
We all handle grief differently, so no story is the same. However, we all have in common that we want to memorialize our loved ones in a way that gives us peace and honors their memory. Therefore, we also offer Memorial Cruises, even if you do not have ashes to spread.
Ash Scattering Services
There are multiple options for ash spreading, and many people choose more than one place to perform this ceremony. However, water ash spreading services is the most popular. We believe this is because the water creates a calm and peaceful atmosphere for those grieving. If you need ideas for spreading the ash, there are biodegradable ash holders that people like to use. These ash holders are a great way to put the ashes in the water.
Captain Pam & Your Memorial
During the Ash Spreading Memorial, we will travel into the Gulf of Mexico (weather permitting), where your coordinates will be saved and given to you so you will be able to find the precise location at a later time. Captain Pam requires a Three Hour Charter for this type of service. This amount of time allows us to get further out from the coast, where you can experience an intimate moment for your loved one.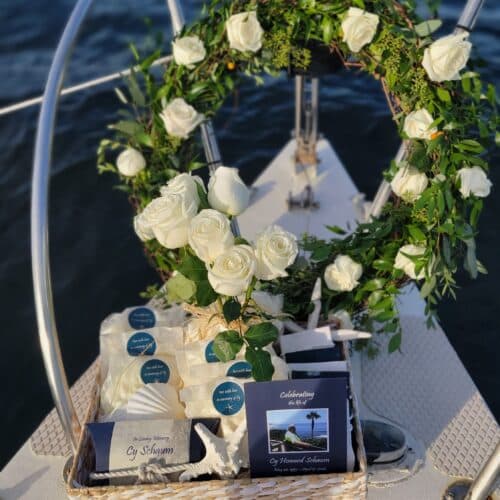 Booking A Memorial Charter
Ash Spreading Memorials are a beautiful way to remember those no longer with us. Captain Pam enjoys being a part of the ash spreading. She says she feels like she has angels watching over the boat and cruising with her every day.
If you do not wish to include Ash Spreading as part of your Memorial at Sea, that's no problem. Let us know when booking the charter if the purpose of your sailing charter is for ash spreading and memorial so we can plan accordingly. For more details or to book a memorial charter, Contact Us. The regular hourly rate applies to this service. Please share this with your friends and family, so everyone will know this service is available.
Please stay up to date on our charters by liking and following us on Facebook.