Smile N Wave Sailing Adventures - Destin Fl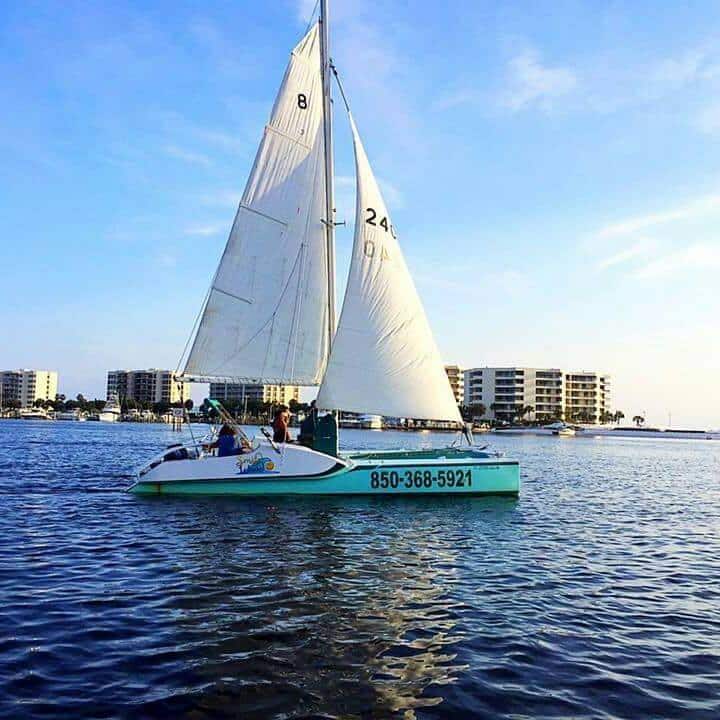 Private Charters Up To Six Guests
Invent your own private charter sailing excursion in Destin aboard a spacious 31 foot catamaran. Join Captain Pam Kane for an adventure of a lifetime! All your gear is included and the boat is equipped with a fresh water shower, bathroom, as well as space for sun bathing and a canopy for shade.
Invent Your Event
Discover Destin, Florida by sailing on your own private 31' catamaran. We offer personalized dolphin excursions, snorkeling, fishing, and amazing sunset spots all to yourselves.
Sailing Tours
Prices for Sunset Sailing may vary. Check with Captain Pam.
Dolphin Excursions
The Gulf Of Mexico hosts some pretty friendly Aquatic Mammals, like the Tursiops Truncatus, or Bottle Nose Dolphin. These happy mammals are some of our best friends and they love meeting new people.
Sunset Sail
What could be better than sailing the emerald waters off the coast of Destin? Watching the sunset over the Gulf Of Mexico, of course! The open waters off Destin provide a breathtaking view of the sunset.
Snorkeling
Sand Dollar hunting or just a better view of our natural aquatic life here in Destin, Florida. Snorkeling is fun for the entire family, safer than scuba diving, and less expensive than buying your own submarine 😀
Party On Crab Island
The coolest thing about Crab Island is that it isn't really an island. It's a sandbar on the bay side of the Destin pass where locals and tourists alike come to anchor their boats, party, swim, cook out, and swim or walk to one of the floating restaurant shacks for a bite to eat or a drink.
Moonlight Cruise
There is nothing so romantic as a moonlit beach, except for a Moonlight Cruise on the waters off Destin's Shores. Our little paradise has more to offer than white sandy beaches and emerald water. 
Fishing
We love sailing and if you didn't already know, Destin is "The World's Luckiest Fishing Village".  The open feel of our sailing catamaran will bring out the best of Gulf fishing, without the hassles involved in larger charters. Catch and release has never been this much fun.