What makes Destin so gorgeous? This blog will discuss what makes Destin so unique and some of the natural landscapes you will be sure to enjoy while vacationing in Destin. The Emerald waters of the Gulf of Mexico are the clearest at this time of year. Now is the perfect time to book your sailing charter in Destin, Florida. Starting in Spring and ending in Fall, the waters remain a beautiful mixture of blue-green that makes Destin Florida such a desired vacation spot. Our sand is soft and some of the cleanest on any coastline.
The Emerald Water
Our Emerald Water gets its color due to the distance from the muddy Mississippi River. The further the distance from the Mississippi River and its muddy sediment, the more transparent the water. For this reason, the Gulf waters further west is a darker color with not much vibrancy.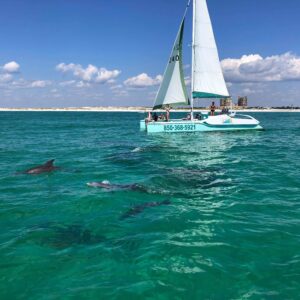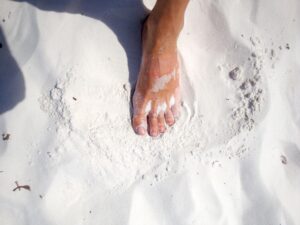 Our White Sand
The Emerald Coast's sugar-white sand gets its beautiful color from the Apalachicola River, which stretches 130 miles east of Fort Walton Beach. The quartz sand material from these mountains is carried and delivered by the river depositing the sand along the Destin shores. This quartz sediment washes into the Gulf through streams, lakes, and other tributaries. Due to its oval shape, the sand makes a squeaky sound when walking on it.
Be Mindful of the Sand Dunes
Destin's dunes are home to our natural wildlife, including bird and sea turtle nesting areas. You will quickly notice signs warning you to stay off the dunes when visiting Destin. The dunes are a barrier and protector for our coastline during severe weather and heavy winds. As the sand deposits onto the dunes, sea oats grow. These sea oats create a layer on top of the dunes and protect them from erosion. Too much activity on these dunes could cause our coastline damage, so please be mindful of our dunes.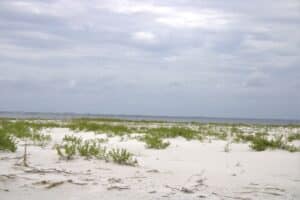 Emerald Coast Barrier Islands
Okaloosa Island is one of the larger barrier islands on the Emerald Coast. Our barrier islands make great nesting and landing ground for some of our gorgeous bird species, the Brown Pelican, Sandpipers, and Bald Eagles. If you spend any time here, you will discover various birds and aquatic species.
Book Your Sailing Charter
Our Sailing Charter will give you the best views of our gorgeous piece of Paradise. Captain Pam offers an interactive sailing tour with guided information about our area and the wildlife that inhabits our waters. She will also show the ins and outs of sailing to any curious passengers who want to learn more about sailboats. Contact Us to book your charter with Pam.