If you're looking for fun things to do in Destin, Florida, Captain Pam is booking Snorkeling Trips aboard her Trimaran, Nice Tri. Snorkeling is a great spring and summer family activity for all ages. Captain Pam has two snorkeling adventures that are suitable for different age groups.
Cruises For Everyone
Captain Pam will give you the best snorkeling experience this area offers. In addition, she knows the best locations to take you snorkeling. All of Captain Pam's Sailing Excursions start at the docks of Destin Harbor. She either anchors the sailboat in a shallow and safe area for the snorkeling cruise with small children, or  in the Gulf for older children and adults.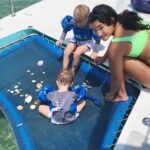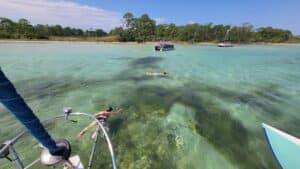 Family Adventures
The place Captain Pam likes to snorkel with small children is the Grass Flats. It is a shallow area where you can disembark the Sailing Trimaran and be waist-deep in water. Some things you may find while snorkeling includes seashells, hermit crabs, fish, shrimp, and an occasional seahorse. Captain Pam allows you to take a hermit crab to the boat for a race before releasing it. The Hermit Crab race is enjoyable for small kids.
Gulf Charter
Captain Pam also has a unique snorkeling trip for older kids and adults. She can take you into the Gulf of Mexico to the second sandbar, where you can free dive from ten to fifteen feet deep and hunt for sand dollars. You are allowed to keep two sand dollars per person. You must book at least four hours to take this memorable snorkeling trip. The Destin area does not have coral reefs but sandy bottoms for snorkeling. The experience is still one of a kind. The conditions must be flat and calm for snorkeling in the Gulf charter, which is up to the Captain's discretion at the time of the charter.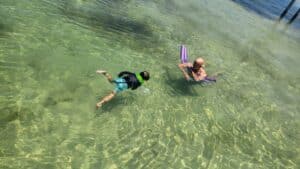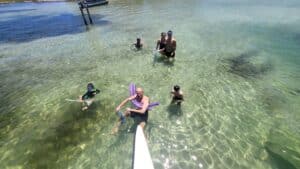 Book A Snorkeling Trip
Captain Pam provides all the necessary equipment needed for snorkeling. You can learn more about this excursion on our Snorkeling page. You can do so online if you are ready to book your Snorkeling Charter. For more information, you can fill out our online contact form. You can also call or text Captain Pam directly at 850-368-5921. Socialize with Smile N Wave Sailing on Facebook, Instagram, YouTube, and Pinterest.