What could be better than sailing the emerald waters off the coast of Destin? Watching the sunset over the Gulf Of Mexico, of course! The open waters off Destin provide a breathtaking view of the sunset. Complete with Pelicans flying over and bottle-nose dolphins in the surrounding waters. There is nothing quite so relaxing as taking a sunset sail with us.
A Sunset To Remember
No obnoxious motor to disturb this unique experience, or pollute beautiful memories of your summer in Destin. The gulf waters, white sandy beaches, and a sunset over the Gulf is a remarkable experience you won't want to miss. Climb aboard our sailing catamaran for the trip of a lifetime.
This is a do-not-miss opportunity for couples, newlyweds, and anyone seeking the most romantic experience to be found in Destin. Couples celebrating their Anniversary can find that spark in the shimmering water under the golden glow of a setting sun. Honeymooners will create beautiful memories of a lifetime. Propose to your special someone in a way that says I love you more than you ever knew.
If you are looking for a unique way to spend time with the love of your life, a Sunset Sail on the waters off Destin is something you'll never forget. Witness Dolphins near and far, glistening water, and a warm golden sky. Everyone talks about sailing off into the sunset. Sail with us and make it real.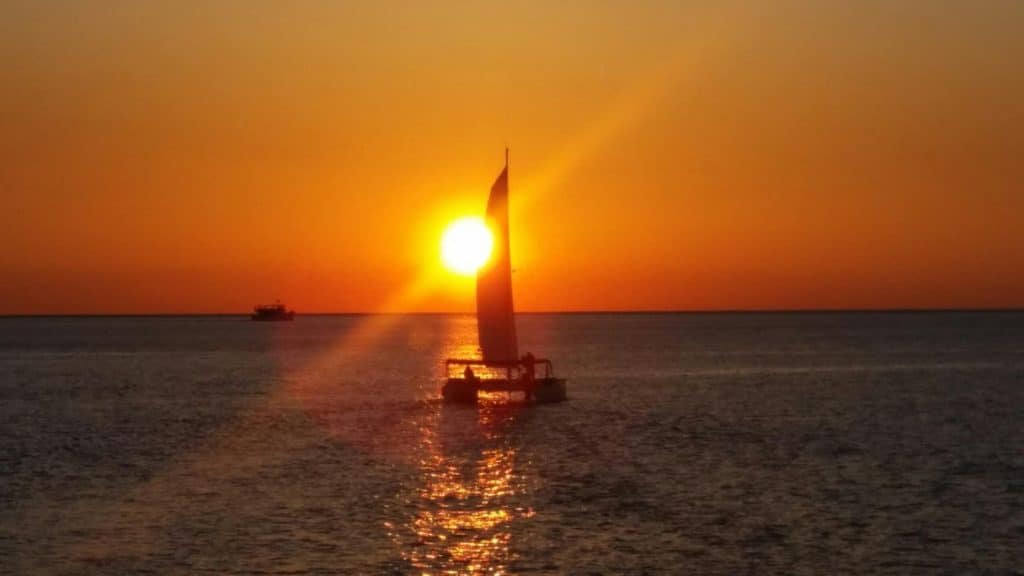 The Romance Is Endless
Sail into the night with a Moonlight Cruise. When you've reached that place with your love and you don't want it to end, you can keep the romance alive by spending time under the moon with a fantastic view. Contact us to book with Captain Pam and make your dreams a reality. We love the lovers and we can't wait to sail you in to paradise.
Prices for Sunset Sailing may vary. Check with Captain Pam.